Recent trajectories of three retailing behemoths are indicative of another sea-change in the industry. Sears Holdings facing certain demise within the next 12 months, Walmart desperately trying to re-invent itself and Amazon steadily marching forwards eating everything in its path. What are the lessons for the rest of the retail sector?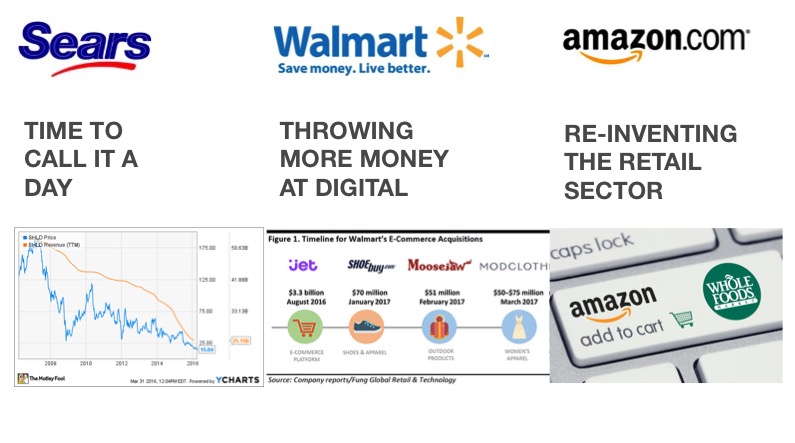 The Tale of Three Retailers
Sears, Roebuck & Company the store where America once shopped, founded at the end of the 19th Century and dominant as a mail-order and then department store retailer throughout the 20th Century. Declining revenues, store closures and the sale of key brands indicate that this retailer is simply going away. Nostalgia aside, Sears is done, simply unable to respond to the needs of today's retail business model not based around the anchor store. Its employees need to re-skill and move on. Macy's, JC Penney and a host of other retailers are already facing the same challenges.
Walmart-Stores, Inc., founded in the 1960's, quickly rose to be the Fortune One Global retailer. Their innovations in vendor management, inventory control and supply chain management, allowed them to dominate the superstore category for thirty years. The economies of scale they created were unparalleled, yet the emergence of online was not an area that those efficiencies provided competitive advantage. Walmart.com and Walmart Labs received billions of dollars in investment and benefited from the brand and access to the parent's negotiating power. Walmart continues to acquire, spending further billions on online propositions, yet its core DNA may still not be able to adapt itself to tomorrow's retail business model. Other category killers such as TJ Maxx, Home Depot, Best Buy and Staples will be in the same boat.
Amazon.com, founded in 1994 with the clear objective of being the "Earth's Most Customer-centric Company". Amazon runs an ultra-lean business and with shocking precision at both planetary scale and internet speed. The customer is truly the focal point of every proposition and efficiencies are designed around exactly that. Amazon understands data and science - every action customers take or don't take is part of a series of experiments that will tell Amazon how to sell more products to more people. And now with the acquisition of Wholefoods, they are about to bring all of this effectiveness into bricks and mortar and the grocery category. In the US there is Amazon and eBay, hot on their heels from Asia are Flipkart, Alibaba and Rakuten but nothing from Europe.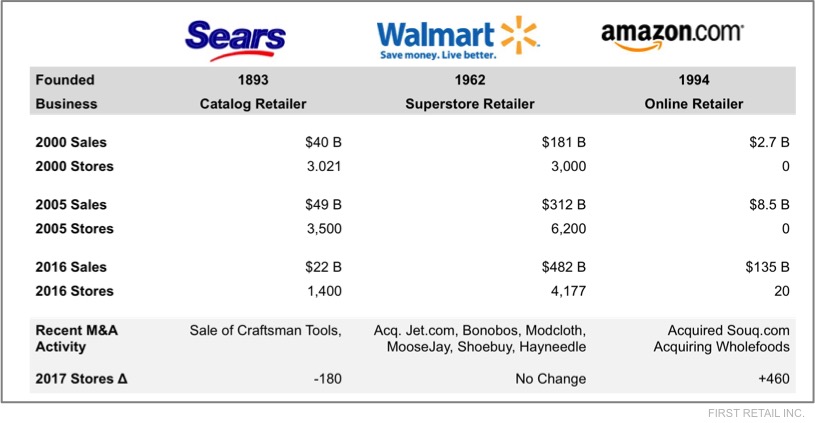 The Future of Retail
The next 5-10 years in the retail sector will see many changes, here are five of the most significant:
The role of physical stores - Physical stores are where customers will get instant gratification, be able to touch, sample and try-on products and get true empathy and advice from experts. More retailers will need to design the store environment as a theater of experience rather than the walk-able inventory that it is today. The physical store is also an interface for things done online, for example picking up orders and returning items. The long awaited 'store of the future' will be with us shortly.
Delivery and Receipt - Delivery to the home of non-perishables has been optimized, but society needs to adapt consumers' ability to receive goods when not at home. This would be locker rooms in apartments, digital lock-boxes for houses or local pick-up locations at physical stores. Grocery delivery from central distribution centers has been elusive - since the ill-fated Webvan, no retailer has tried this on a national scale. Walmart and now Amazon have local stores holding inventory of fresh items, so expect things to change fast.
Other Channels - A.I. Agents will power voice and text based interactions. Amazon Alexa, Google Home and Apple Homepod will allow customers to interact via voice. Facebook Messenger and other chatbots will allow them to interact via text. And the existing web/mobile channels will allow them to interact visually. Augmented Reality and Virtual Reality will turn retailing into a game and a movie. Access to retail will be ubiquitous and contextual - as consumers walk into a store they will be able experience the store physically and digitally. Following WeChat, the smartphone will be the gateway to the retail experience.
Customer - What is customer loyalty today and what will it be tomorrow? Are our loyalty programs and coupons and promotions a race to the bottom. How have Trader Joe's and Amazon been so successful without loyalty programs? How do we engage our customers across channels and then keep them coming back and spending more? We are able to trace our customers on- and offline with increasing precision even with the new data privacy regulations. Customers are both complex and predictable, just don't take them for granted.
Data - The lifeblood of tomorrow's retail organization, it will not be enough simply to have after-the-event analysis of what happened. Data will feed every live process in the organization and will enable dynamic operational, merchandising and interface strategies. Data will need to be granular and semantic, it will need to be captured and made instantly available to the machine-learning based systems that make decisions. Short-cycle fashion should be able to forecast the sales of each colorway each fabric on each style of blouse or be able to determine the exact customer to target a specific style of heel on a shoe. Product attribute data will need to be semantically rich. A sale needs to be instantly attributable to the marketing campaigns that influenced it. In terms of understanding data, the retail organization needs to be as advanced as the crew on the deck of a spaceship.